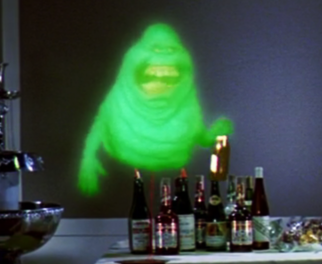 Slimer (also known as Onionhead and Little Spud) was a ghost made up of pure Ectoplasm and the first ghost successfully captured by the Ghostbusters. Slimer is well known for his gigantic appetite and the slime he leaves behind when he passes through solid objects.
Throughout the first film, Slimer appears to lack intelligence and was all about getting a good snack. It was normally a shy ghost but was not afraid to slime when cornered. In the second movie, it appears that Slimer had become more intelligent and could drive a bus. So far, in the video game and cartoon he has grown in intelligence and seems to understand basic human concepts. Slimer is classified as a focused, Non-Terminal Repeating Phantasm, or a Class 5 Full Roaming Vapor. And a real nasty one at that.
Slimer was a legendary ghost to all on the original staff of the Sedgewick Hotel. His usual territory was the twelfth floor, but his outings were usually non-violent and simply involved eating food. As a result, the hotel was able to keep a lid on the supernatural problems (for a while). For some reason, Gozer's approaching time of arrival provoked Slimer (and many other ghosts) into being much more active than usual. Eventually the staff couldn't keep the ghost a secret anymore and called the Ghostbusters. However, the Ghostbusters had not yet fully tested their equipment and weren't completely prepared for a full capture. Ray was the first to find Slimer, but missed him and Slimer escaped into the next hall, where he slimed Peter Venkman.
After many errant shots and the resulting destruction, Slimer flew into the Alhambra Ballroom where the Ghostbusters made another attempt at capture. Though Slimer is at first tossed around by some more missed shots, the Ghostbusters eventually manage to get him in the streams. Slimer was then caught in the Trap and put in the storage facility. However, he was released with the many other ghosts when the storage facility was shut down. Slimer occupied a hot dog cart on 1221 Avenue of the Americas in front of the Rockefeller Plaza. When the Hot Dog Vendor opened the cart, he was naturally shocked to see a ghost. After the Ghostbusters defeated Gozer and left Central Park West, Slimer was sighted in the area. Slimer seemed to be a pet to the Ghostbusters, though it's unknown what he had been doing since the Ghostbusters were put out of business years ago. Slimer did resurface after the Ghostbusters started up again and had apparently gotten much fatter in the span of five years. Throughout the Vigo incident of 1989, Slimer interacted with Louis Tully. The two first met when Louis caught Slimer eating his lunch, to which the two of them fled in fear. On New Year's Eve, Louis decides to take up a Proton Pack and help the Ghostbusters. In an attempt to patch up their initial misunderstanding, Slimer helped an exhausted Louis by giving him a ride to the Manhattan Museum of Art (to which Louis wonders how he got his license). It seems likely Slimer had simply commandeered an abandoned bus from the havoc resulting from Vigo's Mood slime assault.
Ad blocker interference detected!
Wikia is a free-to-use site that makes money from advertising. We have a modified experience for viewers using ad blockers

Wikia is not accessible if you've made further modifications. Remove the custom ad blocker rule(s) and the page will load as expected.